The Leopold Stokowski Site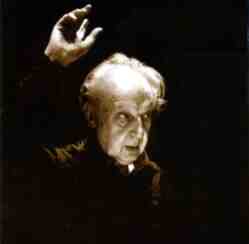 »Music is the voice of the All«
This site is dedicated to the great conductor Leopold Stokowski (1882-1977). My aim is to provide information for collectors and other interested people about Stokowski and his work. Mainly, I want to give an overview of his legacy.
As well, I would like to make it easier for collectors to get in touch with each other. Therefore, you are invited to introduce yourself in the Guestbook.
Your help is always appreciated. For any additions, corrections or questions, please don't hesitate to E-mail me.
---

Special thanks to the following persons for their helpful contributions to this site:
Scott Andrews, Jack Baumgarten, Patrick Baumgartner, Frank Brugman, Theo van der Burg, Bob Carlson, Dennis Davis, Gerald E. Deitch, Cesar A. Dillon, Frederick P. Fellers, S.T. Fine, Eugene A. Gladstone, Mike Gray, Joseph Green, Herbert Haffner, Mike Harkin, Peter Harrison, Rick Heilberg, Dave Hermann, Paul Hoeffler, Domenica Jensen, Edward Johnson, John F. Kelly, Tracy Killeen, Patrick Kittel, Hortense Klein, Masayuki Koshio, Paul Kowalchuk, Masato Kubota, Wolfgang Kuhn, John Lambert, Karin Lenman, Dominique-René de Lerma, David N. Lewis, Larry Matheson, Erin Mayhood, Mark Mcalinden, Barbara Meyer, Adam Michlin, Clinton F. Nieweg, John Nightingale, Mark Obert-Thorn, Preben Opperby, Ray Osnato, Ian Partridge, Ken Pisano, Edouard Reichenbach, Axel Rienitz, John R. Roach, Warwick Round, Tom Rudd, Meredith Rung Creswell, Jonathan Scharf, Albert Schlachtmeyer, Hans Schlager, Michael Schulman, Eric Schuman, Angelo Scottini, Charles Sharpless, Marco Shirodkar, Julian Stern, Daniella Thompson, Max Trébosc, Aggelos Tsompanidis, Hans Weijters, Nancy Wicklund.
---
Home · Biography · Discography · Live Recordings · Movies · Videos · Transcriptions ·Private CDs · News · Web Articles · Pictures · Books · Museum· Forum · Guestbook · Links