Museum
Other interesting stuff about Leopold Stokowski
Native Brazilian Music
During his South-America tour in summer 1940, Stokowski recorded 40 native Brazilian popular tunes which were performed by local musicians. The recordings took place in Rio de Janeiro during the night from 7 August to 8 August 1940 on board of the "S.S. Uruguay", the ship Stokowski and the orchestra have been traveling with.
The recordings were published on two Columbia 78 albums with four discs each: C-83 and C-84.
See also Daniella Thompson's interesting articles about this subject.
---
Stokowski - A Portrait for Radio
by Glenn Gould

Radio documentary about Leopold Stokowski produced by Glenn Gould for CBC in 1971. On this 58 minute documentary, Stokowski talks about his personal insights regarding philosophical, political and musical matters, accompanied by excerpts of his own recordings.
Issued on CBC CDs CDNEK 1448 and PSCD 2025-2.
---
The 1948 Warner Brothers cartoon "Long Haired Hare" features Bugs Bunny imitating a famous conductor with a very characteristic hairstyle...

Thanks to Ken Pisano

Picture © Warner Brothers, Inc.

Watch the movie at YouTube
---
Everest Records released in 1979 an LP with Tchaikovsky's Romeo and Juliet with "Leopold Stokowski Conducting The New York Stadium Symphony Orchestra" on side 1. The recording is in fact not by Stokowski, which can easily be recognized by the "normal" ending of this recording, while Stokowski always used his own ending for this work.

Side 2 of the record contains Marche Slave and the Mozartiana Suite with "Jonas Perlea Conducting The Vienna Symphony Orchestra" (a resemblance to Jonel Perlea might be accidental...)

Thanks to Peter Harrison
---
...and another item like this: A Walt Disney CD that was issued in Germany (Karussell 833 205-2) with a "false" recording of Prokofiev's "Peter and the Wolf". In fact the recording was conducted by Kurt Graunke and appeared in the film "Make Mine Music" (1946)

Thanks to Edward Johnson
---
| | |
| --- | --- |
| | In 1998, U.S. Mail released a series of stamps about great composers and conductors. One of them is showing Stokowski. |
---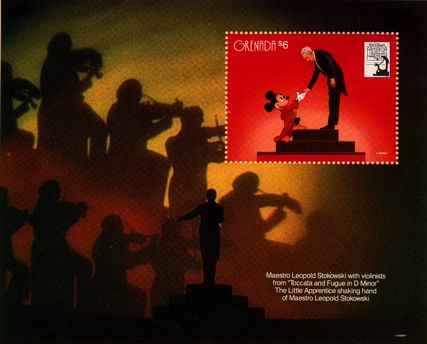 In 1991, Grenada released eight stamps with motifs from Fantasia, the one above with the famous handshake between Stokowski and Mickey Mouse.
---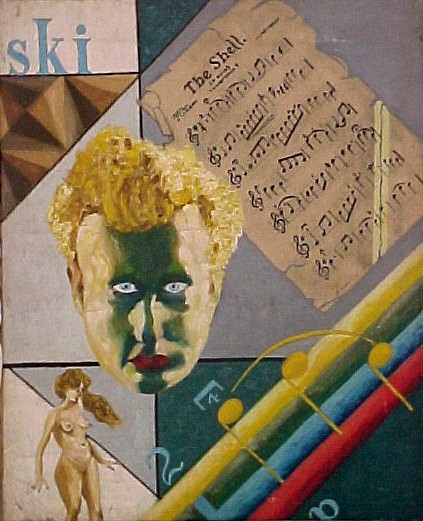 Stokowski Impression (1932)
painting by Peter Fiordalisi (1904-1988)
Thanks to Paul Kowalchuk
www.thedeeparchives.com
---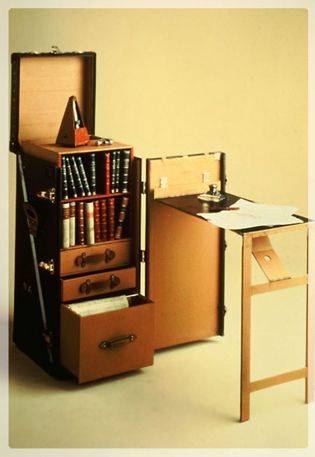 Fashion designer Louis Vuitton designed this trunk with an integrated folding desk for Leopold Stokowski in 1936. It is still on sale today.
---
Make a virtual visit to Stokowski's grave and leave a flower here.
---
Home